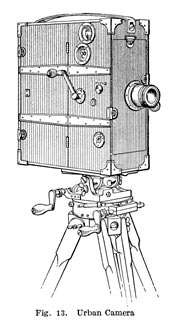 The Wisconsin Bioscope Company takes its name from the camera used to make the company's first picture in 1999, a Bioscope Model D, made in 1907 or before by Alfred Darling for the Charles Urban Trading Company. Darling was an engineer in Brighton, England, who made all sorts of cinema equipment before the First World War, especially cameras for British equipment retailers such as Williamson, Wrench, Prestwich, Moy, and Charles Urban, an American active in the British market.

The Bioscope Model D has two drive sprockets, one for film supply, the other for take-up—unlike Louis Lumière's master sprocket design. This makes possible a through-the-lens viewing system via a tube running from a glass pressure plate in the gate clear through to the back of the camera. The camera has three crank sockets—one turn eight frames forward, one turn eight frames reverse, one turn one frame—and a supply of special aperture masks—binocular, keyhole, etc.

Although Wisconsin Bioscope produced two brilliant films with this camera, its technical limitations soon became apparent. It requires a lens with a focal length of at least 75mm, a moderately long lens necessitating a large studio. The camera's gear train is complex and elderly making it hard to crank. It also produces non-standard framing.